WE ARE ALL CONNECTED. OUR ACTIONS REFLECT OUTWARD AND FORM OUR REALITY.
"As an artist I contribute my personal vision and response to social issues through narrative sculpture. My installations combine ceramic figures with digital photo montages composed within imagined spaces. The concepts for my work have ranged from human consciousness, to nostalgia, and currently my concerns for environmental impacts to the food we consume."  Nan Smith
in the studio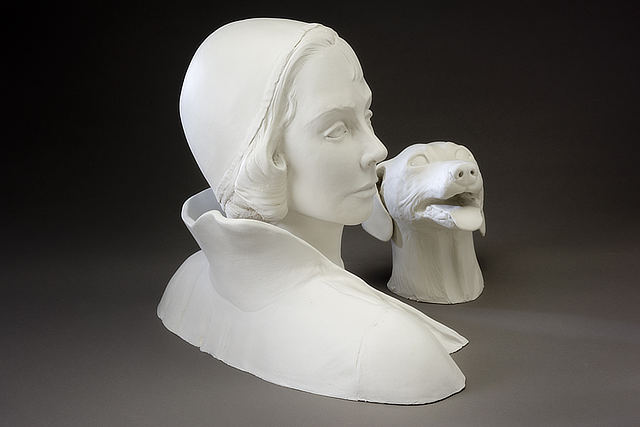 Nan Smith is a full-time studio artist who maintains her sculpture studio in Gainesville, Florida. Her work has been published and exhibited internationally. A Professor Emeritus from the School of Art + Art History at the University of Florida, Smith presents figure sculpture and mold-making workshops, and lectures on environmental conservation, the current theme of her artworks.
Nan is currently beginning new sculptures that continue her research and interests in environmental conservation. New to her body of work are her photographs on archival paper which are available for purchase. (Nan's complete Biography and CV appear through the top links)
upcoming workshops & exhibitions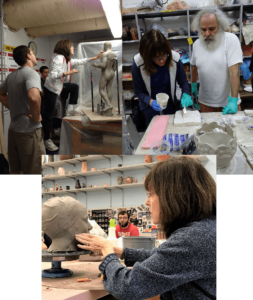 Nan has recently (9/2020) completed her Water: CodeBlue Project; which includes a large installation, tile murals, and small sculptures in still-life format. The art works are based on research about global water conservation that Nan conducted in the southwestern United States, in Israel, and Ireland. The new installation is not featured on this website. Nan is looking for venues for this work, so if you have an interest in water conservation or venue suggestions please contact her.
Nan Smith is scheduled to teach a two-week figure sculpture session at the Anderson Ranch in 2022. She will return to teach a one-week session titled – "Style and Voice" at the Arrowmont School of Arts + Crafts, in 2023. For more information please feel free to contact us.
recent project

The Mercury installation informs the public about environmental impacts to seafood and the need for conserving our oceans and seas. The Research | Mercury Art + Science page is intended as a resource about environmental mercury. Learn more about the development of the installation and the research that was conducted to support the art work on our Research | Mercury Art + Science page.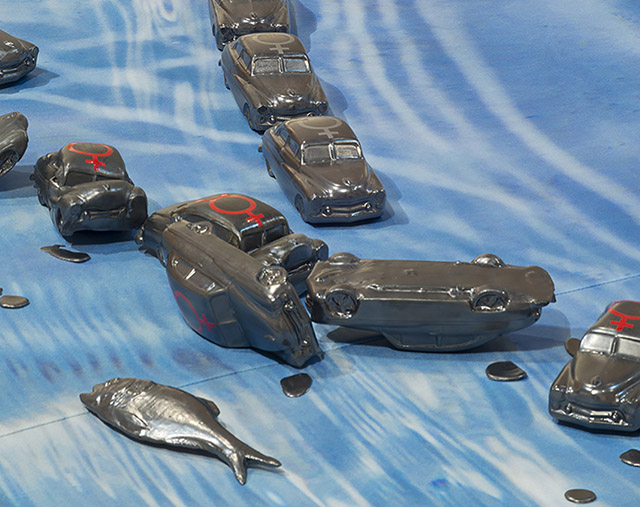 Narrated by Nan Smith,
Directed and Produced by Alan Saperstein
[ view a larger video on our Media page ]
"INVOKING THE KIND OF AGGRESSIVELY SYMBOLIC PROGRAM that one associates with 16th century fresco cycles and complex ensembles of allegorical statuary, Nan Smith's Mercury seizes space and conjures within it a monumental disquisition in which every surface and form participates with ringing clarity."
Glen R. Brown, PhD
"Throughout her career, Smith has used the ability to mimic almost any surface or form to create trompe-loeil images. Her work has never been about simple illusionism, however. This is a device Smith uses to examine complex issues. Mercury continues this dynamic of deceptive simplicity."
Anthony Merino
"Although Mercury relies on extensive research to show steps by which the damage is done, like Smith's other works, it presents its message as an experience in which the orchestration of forms and interplay of invented symbols have an intrinsic aesthetic resonance."
John L. Ward, PhD, Art Historian
© Copyright 2020 | Nan Smith | All rights reserved